WHY INVEST IN DIGITAL ADVERTISEMENT
El-Chári Invests In Electronic Billboard Marketing To Help Large Businesses And
Smes Reach A Wider Audience And Generate More Profit.

LARGE MARKET
Millions Of Small And Medium Enterprises (Smes) In Nigeria Rely On Word-Of-Mouth Advertising Only. They Struggle With Profits Because Their Reach Is Limited. Digital Billboard Advertising Links Business Owners To Thousands Of Nigerians Passing The Busiest Roads Daily.

INCOME OPPORTUNITES
Business Owners Invest More In Digital Billboard Advertising Because It Is Easier To Monitor Analytics And Understand Buyers' Behavior. This Creates Unlimited Income Opportunities For Investors And Entrepreneurs.
EL-CHARI'S DIGITAL ADVERTISEMENT BUSINESS
El-Chári Is Involved In Digital Billboard Advertising To Give Business Owners Maximum Reach. We Buy Digital Advert Boards Placed In Strategic Positions In Lagos State To Get More Eyes On Investors' Products And Services 24/7.
The Company Makes Profits When Business Owners Then Pay For Adverts On These Digital Billboards For A Certain Period.
INVEST WITH US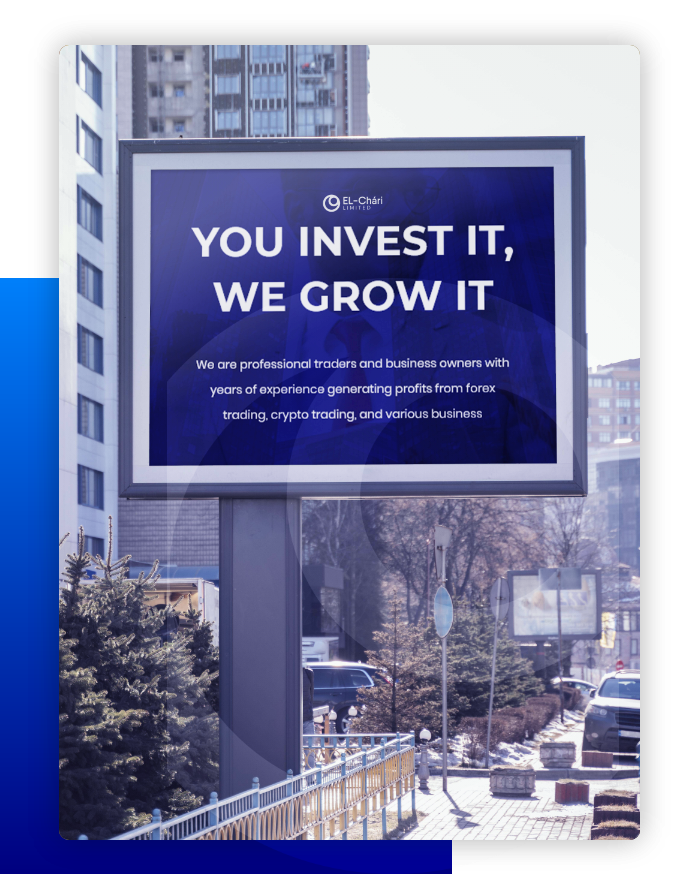 CONTACT US
We Are Here To Help You